TOWING SERVICES
TOWING SERVICES
Get a Free Tow to The Garage
We now offer free towing to our valued customers, Proudly Serving Albuquerque, Rio Rancho, Barelas, North Valley!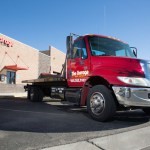 If your vehicle is not running, or you are "Found on Road Dead", you are invited to take advantage of our FREE towing services. Towing is free of charge, locally up to five miles, to The Garage for repairs. There is a minimum one hour labor charge ($95.00) with all courtesy tows. The Garage can assist you with your Light Duty, Medium Duty,and Heavy Duty towing needs with our Flatbed Tow Truck. Tows must be scheduled during our regular business hours, which are Monday - Friday, 7am-6pm.
Please make sure your vehicle is accessible for towing. If it is blocked in by another vehicle, please clear the way before the tow truck driver arrives. If you are unable to meet the driver with the keys to your vehicle, you may drop off the keys in advance at The Garage or leave them with a family member or trusted neighbor.
Our team includes experienced and well-trained professional drivers, each fully licensed and certified to ensure high quality auto solutions. Our flatbed trucks and tow dollies are well maintained and we are continually investing in the latest machinery, tools, and computers to advance our capabilities.
Our courteous and professional driver will be happy to assist you in any way possible. It is our mission to help find solutions to your automotive problems and reduce your stress as much as possible. Simply call our office if you need a tow at 505-352-5152, or click on the "Call Us" button if you have our Android mobile app.
coupons
2 or 4 Wheel Alignment
$89.95 (for MOST vehicles)
Testimonials
Kenneth Hutter

, 06/09/2022
Dodge 1999 Ram 3500 Diesel Dually. Took truck in for sluggish to failure of Clutch pedal and water pump replaced. Rocky was very knowledgeable and would give updates in a timely manner. 100% satisfied with work, price, and communication. I'd go back and recommend services to anyone. Parts not on hand so be prepared to wait a bit. From time I dropped truck off to getting it back was about 1 week. Considering it looked busy and supply chain slow downs.... I couldn't be Happier. Thanks Rocky! I am always skeptical of repairs especially since a few years ago I had a fuel pump go out. Took truck to dealer and wanted to charge me 10K. Thanks for diagnostics dealer. Went and bought my own fuel pump (5K) took it out and could have replaced it same day myself. I wish I would have seen The Garage first!
view all reviews